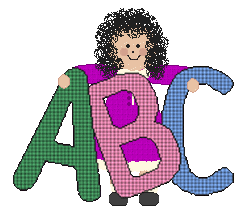 Bb
Oh boy! It's Bb week!
1. Read a book.
2. Play with blocks.
3. Bounce a ball.
4. Talk about the day you were born with your mom or dad.
5. Count the buttons on Mommy/Daddy's shirt.
6. Ride your bicycle.
7. Fly like a butterfly.
8. Hop like a bunny.
9. Buzz like a bee.
10. Listen to the sound of birds outside.
11. Count the windows in your bedroom.
12. Drink a big glass of milk.
13. Draw a beautiful picture.
14. Growl like a bear.
15. Eat a banana.
16. Help make breakfast.
17. Look for brown fall colors.
18. Move your body to music. You can do it!

Becka